Mount Readmore Book Review, 2017 87/100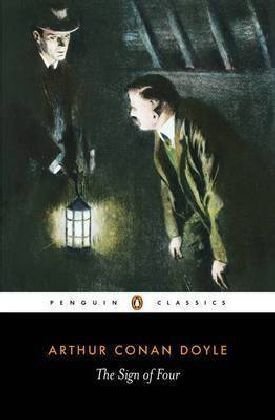 The Sign of the Four By Sir Arthur Conan Doyle
Audible Edition, Narrated by Stephen Fry
Finished on 10/14/2017
Description: As a dense yellow fog swirls through the streets of London, a deep melancholy has descended on Sherlock Holmes, who sits in a cocaine-induced haze at 221B Baker Street. His mood is only lifted by a visit from a beautiful but distressed young woman – Mary Morstan, whose father vanished ten years before. Four years later she began to receive an exquisite gift every year: a large, lustrous pearl. Now she has had an intriguing invitation to meet her unknown benefactor and urges Holmes and Watson to accompany her. And in the ensuing investigation – which involves a wronged woman, a stolen hoard of Indian treasure, a wooden-legged ruffian, a helpful dog and a love affair – even the jaded Holmes is moved to exclaim, 'Isn't it gorgeous!'
Genres: Mystery, Crime, Detective, Sherlock Holmes
The Second Sherlock Holmes adventure. Includes everything from secret Indian Jewels, helpful scent hounds and a love affair.
Spoiler-tastic review
A Watson's future wife has received a single pearl once a year on the anniversary of her father's death. Four years post-mortem, a note is sent along with the pearl: 'Meet me, and don't get the police involved.' Thus begins the intriguing story of world-spanning sleuthing.
I liked 'The Sign of Four' much more than the 'Study in Scarlet.' The plotting was much cleaner, with the focus being on the actual investigation instead of the motive behind the crime. I'm going to keep this review short because the book's 127 years old and I doubt anyone will really care about the review. It was a good book and I liked it.
Stay Sunny!
Audiobook notes: Stephen Fry did an excellent job.