Mount Readmore Book Review, 2018 118/200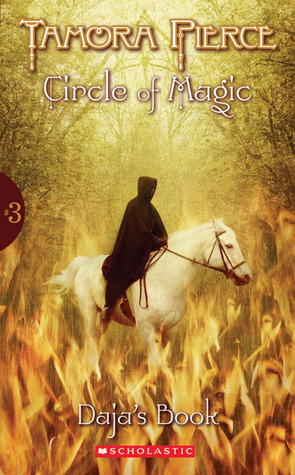 Daja's Book by Tamora Pierce
Audiobook Edition
Finished on 7/20/2018
Genres: Fantasy, YA, MG, Circle of Magic, High Fantasy
The Third book in an influential series
Spoiler-ific review
When I read this as a kid years ago, this was my least favorite book in the series. Now that I read this again as an adult, this is become a favorite book in the series. This deals with complex topics such as religious taboos, bigotry and the family you're born with versus family you choose to have. Contrasting with these important topics is an interesting plot line of blending magics and uncontrollable forest fires.
I liked Daja most of all in this book. Daja grows up a lot here, after being forced to make uncomfortable choices for some people she doesn't really like. The other three primary characters don't have as good of plot line sand character groups here.
The background story of 'natural magic vs academic magic' was interesting in the context of firefighting. I liked the flawed antagonist firefighter, whose pride was his downfall. I would have liked it if the author had a POV of an academic mage so we know why they're so different from natural mages.
Recommended for late middle grade readers and early YA readers, so people between 10 and fifteen years old.
Stay sunny!