Mount Readmore Book Review, 2017 96/100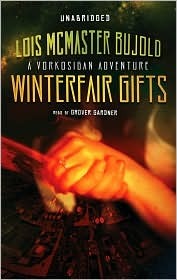 Winterfair Gifts By Lois McMaster Bujold
Audiobook Edition
Finished on 11/14/2017
Description: This Hugo-nominated novella adds a delightful extra chapter to Bujold's Vorkosigan series, describing the wedding of Miles and Ekaterin and events leading up to it. In the festive season of Winterfair on the planet Barrayar, Lord Miles Vorkosigan is making elaborate preparations for his wedding. The long-awaited event stirs up romance and intrigue among his eccentric family and friends, particularly for bioengineered space mercenary Sergeant Taura and shy, diffident Armsman Roic. But Miles also has an enemy who is plotting to turn the romantic ceremony into a festival of death. Winterfair Gifts offers another of Bujold's witty, character-centered science fiction plots with a twist of romance.
Genres: Mystery, Crime, Sci Fi, Romance, Space Opera
Things are never simple in the Vorkosigan household. Miles Vorkosigan's wedding is either going to be fantastic, or end in utter disaster. It's up to Sgt. Taura and Armsman Roic to save the day.
Spoiler-tastic review
I was in the mood for a Christmas novel, and this re-read certainly provided it. This is a short story in the Vorkosigan setting, and should be read after 'A Civil Campaign.'
Here's a short review for a short story.
The characters were nice. Bujold is fond of wordplay, and it makes her characters live and breathe. The romance wasn't overplayed, which it certainly could have been in the short length of the story.
The plot was integrally woven in with the characters. The intrigue was played well.
Highly recommended. I suggest you start with either 'Shards of Honor' if you want to read the entire Vorkosigan Saga including young Miles, or with 'Memory' if you want to read just the second half of the Vorkosigan Saga where Miles is an adult.
Stay Sunny!