Mount Readmore Book Review, 2017 83/100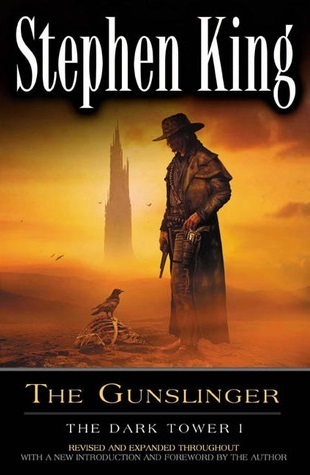 The Gunslinger By Stephen King
Audiobook Edition, by George Guidall
Finished on 10/9/2017
Description: Beginning with a short story appearing in The Magazine of Fantasy and Science Fiction in 1978, the publication of Stephen King's epic work of fantasy — what he considers to be a single long novel and his magnum opus — has spanned a quarter of a century.
Set in a world of extraordinary circumstances, filled with stunning visual imagery and unforgettable characters, The Dark Tower series is King's most visionary feat of storytelling, a magical mix of science fiction, fantasy, and horror that may well be his crowning achievement.
Book I
In The Gunslinger (originally published in 1982), King introduces his most enigmatic hero, Roland Deschain of Gilead, the Last Gunslinger. He is a haunting, solitary figure at first, on a mysterious quest through a desolate world that eerily mirrors our own. Pursuing the man in black, an evil being who can bring the dead back to life, Roland is a good man who seems to leave nothing but death in his wake.
Genres: Fantasy, Science Fiction, Horror, Dystopia, Western
The man in black fled across the desert, and the gunslinger followed.
Spoiler-tastic review
I read this (belatedly) as a part of the Sword and Laser Podcast Bookclub. I must admit I was not able to finish this book. I wanted to (dearly), but the CDs I checked out from the library was missing the last disc. I'll track that last disc down one day and finish reading this.
The desert is vast and filled with horrors. It is an unforgiving place, filled with rotting ruins and glowing mutants. On the far side is the mysterious Dark Tower, where both the Gunslinger and the Man in Black are travelling.
The Gunslinger Roland Deschain is not a nice man. I liked his personality as a gritty and determined antihero hunting down the Man in Black like an old Western Sheriff. Jake was also good, with his genre-aware unchildlike intelligence.
The plot was a bit touch and go for me. I liked how early on the chapters in Tor because they did a good job elaborating who Roland and the Man in Black were in terms of character and ability.
I liked the book's style. It was a weird mixture of dystopian fiction and Wild Western with some weird magic thrown in for spice. In particular I liked the Western elements, for that was not something I've seen before in the Fantasy Genre. More, the whole mysterious mood of the book was just fascinating.
Net total I liked what I read and I think I'll be reading more Stephen King in the future.
Audiobook notes: Read by the one and only George Guidall, it was a very good audiobook. What did you expect? It was George Guidall!